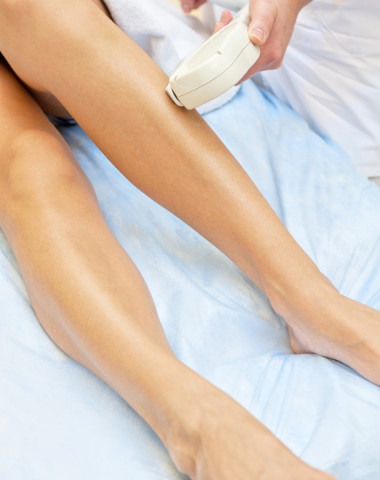 Book Your Consultation Now!
Hair Free and Silky Smooth!
That's what is desired by both men and women of today. Most of us are not born with perfectly hairless bodies, in fact, we become hairier after puberty. Other factors such as age, ethnicity, hormones and medications can also influence hair growth.
Remove Hair Safely and Permanently
With our top of the art lasers, hair free is finally an attainable goal. At Rao Dermatology, we provide a choice of 3 different lasers for removing hair safely and permanently.
We have a great success rate , so say goodbye to shaving, waxing and ingrown hairs once and for all.
What Exactly Is Laser Hair Removal?
To put it simply, laser hair removal is a safe, effective way to achieve permanent hair removal on both the face and body. We use only the latest proven technology for the quickest, cleanest, and most effective hair removal in Edmonton. The gentle beam of light produced by our laser treatments is safe and effective enough to be used on all skin types and virtually any part of the body.
Why Laser Hair Removal?
If you've ever experienced the nuisance and inconvenience of unwanted body hair and upkeep, you're probably looking for a solution. Laser hair removal is an easy alternative to shaving or waxing done through highly concentrated light beams targeted into hair follicles, destroying hair without surrounding skin damage.
Laser hair removal treatments can be useful for removing hair from the face, legs, arms, underarms, bikini line, and other areas, with precision, speed, and predictability. Laser hair removal is becoming increasingly popular as laser technology advances to eradicate unwanted hair at the follicle, leaving skin smooth and hair-free. At Rao Dermatology, we are pleased to provide a choice of 3 different lasers for removing hair safely and permanently based on your needs.
How Does Laser Hair Removal Work?
Laser hair removal works by gently heating and destroying the hair follicles at the base using infrared laser light which are attracted to the coloured pigment in individual hairs. The laser passes safely through the skin's dermal layers, leaving skin smooth and hairless after a number of easy, pain-free treatments. Since this light is low energy, the treatments are safe and parameters are specifically designed to match your skin and hair type, resulting in exceptional precise and gentle treatments, requiring less recovery time and ridding of hair faster.
How Many Procedures Will I Need?
Because hair grows in cycles, several treatments are necessary to achieve permanent results. You can expect anywhere from 10-25% hair reduction with each treatment, and the regrowth following treatments is usually lighter and finer. Typically treatments are performed every 4-8 weeks.
Treatment Options:
Click the link below to learn more about our IPL laser treatments for hair removal.
What to Expect with the Laser Hair Removal Process
Prior to any laser hair removal treatment, we will meet with you to learn about your specific needs. We explain to you the process and answer all of your questions. We only move ahead with a laser hair removal treatment when you are confident and comfortable to proceed. Please use the form below to book your free hair removal consultation now.