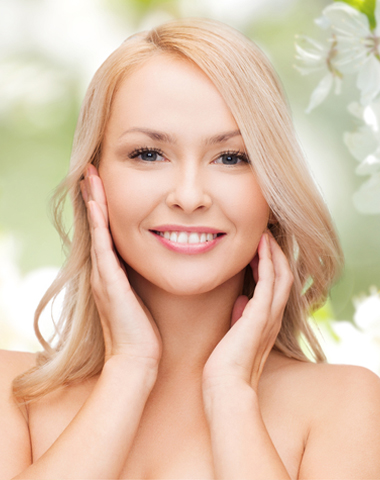 Book Your Consultation Now!
Tight, firm, smooth skin like you've never had before.
Our skin tightening procedures are an excellent way to maintain your skin and fight the signs of aging.  Our proven treatments achieve non-surgical skin tightening with minimal pain and no downtime.
Many of our effective and quick treatments work by stimulating the collagen deep within the skin which leads to a refined and tightened texture.
Find out more by browsing our options below:
Skin Tightening Treatments
Once we hit the age of 20, our bodies produce about one percent less collagen every year. Also, the elastic bonds, known as elastin, that give skin its youthful look and feel start to come apart. Combine these events with stress, sun damage and poor skin care habits and you have a recipe for visible signs of aging.
Whether you're just starting to notice fine lines and want to nip them in the bud or you're in your 50s and 60s and are seeking a way to take years off your face, laser skin tightening will give you noticeable but natural looking results. Prevent and reverse a loss of elasticity and watch skin bounce back!
We offer a number of non-surgical cosmetic treatments that will help achieve a younger look without incisions or downtime:
Dermal Fillers
Dermal fillers are injectables that use either natural or synthetic hyaluronic acid to plump up your skin. In contrast to neuromodulators, dermal fillers create volume and fullness which achieve a natural, youthful appearance
We use both natural and synthetic fillers at Rao Dermatology that produce superior results in combination with our doctors' skill, technique, experience, and training.
Platelet Rich Plasma (PRP) Therapy
Platelet Rich Plasma (PRP) has become a highly sought-after non-surgical procedure for facial and skin rejuvenation.
The treatment uses your own blood platelets to stimulate new cell growth, helping to improve your complexion, skin texture and to restore lost facial volume.
The concentrated platelet rich plasma contains increased concentrations of certain growth factors and proteins that promote new capillary formation, collagen production and damaged tissue repair. These bioactive growth factors facilitate accelerated tissue repair and promotes skin rejuvenation.
Redensity I
Redensity I is a combination of injectable dermal filler and mesotherapy. Loss of hydration and luminosity causes our skin to look dull and tired at any age. Fine lines, wrinkles, and darkness start to appear, your complexion dulls, and the texture of your skin becomes uneven.
Redensity I is a light filling treatment consisting of microinjections performed evenly across the face, neck, and hands. Its' select ingredients of hyaluronic acid, amino acids, and vitamins work at a much deeper level, giving an immediate, cumulative and most importantly a natural result.
Microdermabrasion
Turn back time with our Microdermabrasion diamond procedure. This advanced facial treatment encourages the production of collagen and elastin tissue, creating a firmer, more youthful facial contour. Your skin will feel and look smoother, more radiant and even.
Our Microdermabrasion procedures are most effective when they are performed as a series of treatments. However, even one treatment can make a huge difference in skin texture and appearance. It provides a full resurfacing effect, so your skin appears younger-looking, softer and more luminous.
Microneedling
The dermal roller microneedling system, also known as skin needling, is a minimally invasive method of stimulating collagen development in the treated area to produce more youthful, natural-looking results over time.
Book Your Free Skin Tightening Consultation Today
These are just a few of the more popular treatments we offer for skin tightening. Please book your free consultation today using the form below to receive a tailored solution that is will help you achieve a younger look.