Suffering with acne is bad enough, but dealing with acne scarring just adds insult to injury. Toss in aging and sun exposure to the mix, and those scars inevitably become more noticeable as time passes. Since approximately 95% of acne sufferers end up with permanent scarring that causes both hyperpigmentation (brown and red marks) and pitted scars, its impact, emotionally and psychologically, is substantial: acne scarring is a risk factor for suicide and is linked to poor self-esteem, depression, anxiety, embarrassment, anger, and even unemployment.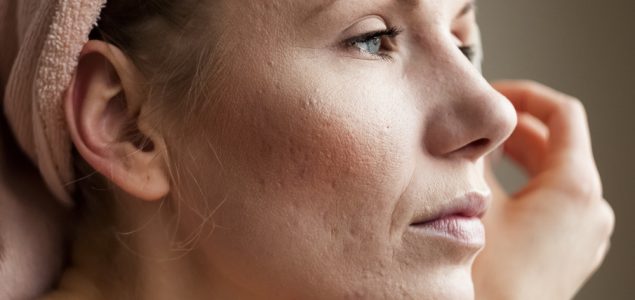 But you don't have to suffer in silence because Rao Dermatology offers a number of customized treatments that can erase or minimize acne scarring's marks and indentations.
Our experienced and knowledgeable doctors will assess your type and extent of scarring (atrophic, hypertrophic, or keloidal) together with your age and specific skin type to develop a course of treatment tailored just for you.
Below is an overview of the acne scarring treatment options we offer at Rao Dermatology in Edmonton:
Laser Treatments
Laser treatments are the quickest way to reduce the impact acne has on your skin. An extremely precise procedure that produces intense monochromatic light, laser treatments use photothermolysis to breakdown selected tissues in the skin. Dermatologists have been using laser therapies for over 35 years, and Dr. Rao is an acclaimed international expert and researcher in the laser field. Under his skillful guidance, we choose the most optimal treatment for your skin. We offer a variety of laser treatments to reduce or eliminate acne scarring: Intense Pulse Light (IPL), Laser Genesis, Nano Laser Peel, Sciton Profractional, Q-Switch Laser, Excel V, Cynosure Smart Xide, Sciton Halo, and Micro-Laser Peel. All of our laser treatments are non-invasive and proven to reduce skin damaged by acne scarring.
Dermal Fillers
Known for plumping up skin, dermal filler aren't only used for aging, they are also an effective acne scarring treatment. Dermal fillers add volume to the skin using natural or synthetic materials that are injected into the face to increase volume and smoothness. Particular effective for pitted scarring, dermal fillers provide almost instant results, but they do require follow up treatments to maintain the effect. At Rao Dermatology, your doctor will determine which filler is best for your skin, but we carry Juvederm®, Restylane®, Revanesse, and RADIESSE®.
Medical Facials
On their own, medical facials can minimize acne scars, but depending on your scarring, they may work best in combination with laser treatments. At Rao Dermatology, the medical facials we offer include chemical peels, microdermabrasion, and microneedling. Medical facials are known to reduce superficial scarring by removing the top layer of skin; as the skin heals, its surface appears smoother and fuller. In contrast, microneedling uses tiny needles to penetrate the dermis, which also stimulates healing to treat texture and tone.
Daily Advanced Skin Care
A proper skin care regimen is essential to maintain healthy, youthful skin by preventing, treating, and maintaining your skin's health. Typically used in tandem with other treatments, our skin care products optimize and prolong the benefits of our acne scarring treatments like laser treatments, dermal fillers, and medical facials.
Our product of choice is SKinceuticals, an advanced skin care line backed by science and committed to the highest, medical grade formulation standards. SkinCeuticals' acne products not only fight and prevent acne, but they also help improve the skin's acne scarring by lightening dark spots, evening skin tone, and firming complexions.
Do you suffer from acne scarring? Book your acne scarring treatment consultation by filling in the form below.