Crow's feet are the fine lines which appear around your eyes. These fine lines and wrinkles are an unavoidable and natural part of the aging process. However, you can reduce the appearance of crow's feet with a good skin care regime.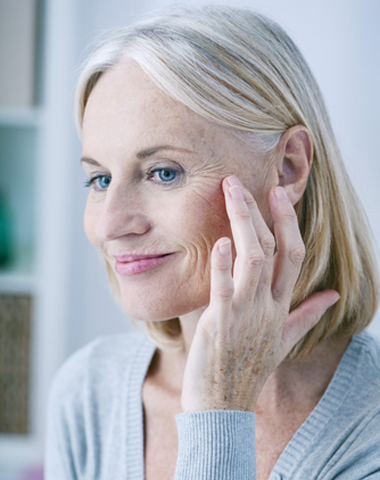 Your skin uses the proteins elastin and collagen to maintain a youthful complexion. Over time, your body will produce less of these valuable proteins, your skin will lose elasticity, and you won't replace dead skin cells so quickly. As this happens, fine line and wrinkles will start to appear.
Egg White Face Mask
Egg whites contain magnesium which is great for your body as magnesium detoxifies and cleanses the skin. On top of this, the egg white will pull the skin together and make it appear smoother.
To prepare an egg white face mask, you should beat an egg white until it's frothy. Ensure that your face is relaxed and apply the egg white to your face. Allow the face mask to dry and apply a second coat. Keep the mask on for 15 minutes and then wash it off with soap and water. You should repeat this process a few times a week.
Aloe Vera
Aloe Vera has great antioxidant properties and contains many essential vitamins and minerals. Antioxidant properties of the Aloe Vera plant include a high concentration of vitamins A, C, E, and B12. The plant also contains folic acid and choline which are also good for the skin.
Cut a fresh Aloe Vera leaf and squeeze out the gel from inside the leaf. Apply it to your face and leave it on during the night. In the morning, rinse your face with cold water.
Coconut Oil
Coconut oil can be used to nourish the skin. It contains a high amount of vitamin E and linoleic acid which can help to reconnect broken skin tissues. This will delay the appearance of wrinkles and crow's feet.
Rub some extra virgin coconut oil around your eyes each night before going to sleep. Use a few drops and gently rub the oil into the skin.
Lemon Exfoliator
Lemons contain a high amount of citric acid which works as an exfoliant to revitalize your skin. Lemon juice effectively removes dead skin cells and will help you to look younger.
Rub fresh lemon juice onto your crow's feet, leave it for 10 minutes, and rinse your face with cold water. You can repeat this process a couple of times every day.
Cucumber Eye Patches
Cucumbers are rich in vitamins B5 and B6. They also contain high amounts of niacin, riboflavin, and thiamine. These vitamins and nutrients soothe skin and will help to reduce the appearance of wrinkles.
Lay down and place one thin slice of cucumber over each eye. Leave the cucumber resting on your eyes for around ten minutes. Add this remedy to your daily skin care regime.
Honey and Yogurt Mask
Honey hydrates skin and helps to remove bacteria. It also works as an antioxidant to keep your skin feeling soft. Lactic acid in yogurt exfoliates the skin which will help to keep your skin firm and smooth.
Combine equal amounts of honey and plain yogurt into a bowl. Mix the both together and apply to your face. Leave the mask on for 10 minutes and then rinse with cold water.
Fine lines and crow's feet are inevitable, but you can slow down the aging process with some simple natural home remedies. There's no need to buy expensive cosmetic products to keep your skin looking young and beautiful, you can get great results by applying natural treatments to your face. Natural ingredients are also better for your skin than harsh chemicals found in some cosmetic products.