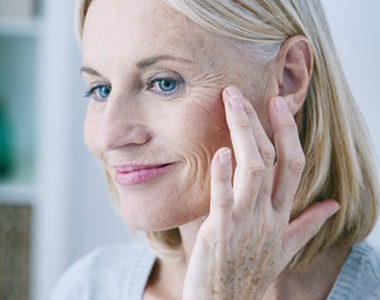 While your eyes might be the window to your soul, your face is the window to your health and your youthfulness, which is why many choose to combat aging with facelifts. But did you know there are now non-surgical facelifts?
But aren't facelifts plastic surgery?
Not anymore. With technological advances in dermatological medicine, you don't have to go under the knife to restore volume, resurface skin, or tighten deeper tissues.
Today, we can enhance your overall look with a nonsurgical facelift in one appointment at our office: we can add structure to your jaw to minimizing sagging (reducing the dreaded double chin), fill in the hollows under your eyes, minimize wrinkles and lines, plump up your lips, reshape your nose, and mitigate bone and fat loss in your cheeks and temples – all without performing an actual surgery.
What exactly is a nonsurgical facelift?
A nonsurgical facelift is a customized course of non-cosmetic, dermatological procedures designed to give you a more youthful, rejuvenated visage. Your nonsurgical facelift is targeted to your chosen areas and can include various treatments and procedures. Generally, nonsurgical facelifts vary from person to person, depending on your unique face and goals, but they'll likely include some of the following:
Dermal Fillers
From your forehead to your cheeks, from your jawline to your undereyes and temples, we use dermal fillers to help increase elasticity and fullness (think fine lines, undereye hollows, scars, and gauntness). The kind of dermal filler we use will depend on your skin, but we offer both synthetic and natural fillers, which are injected using fine needles. A quick, budget-friendly visit, dermal fillers offer instantaneous, natural looking results. last depends on your skin, and follow ups are a good idea, but the desired effect can last from two months to two years. We work with these dermal fillers to offer our clients the best results: Juvederm®, Restylane®, Revanesse, and RADIESSE®.
Non-Surgical Rhinoplasty
Next up is your nose, of course. While nose jobs are still largely done surgically (especially for more challenging or distinctive changes), new innovations now allow us to reshape your nose without surgery. An increasingly popular procedure, non-surgical rhinoplasties use carefully selected dermal filler injections to adjust trouble areas from straightening to correcting to narrowing and widening. This procedure smooths bumps, fixes imperfections, and creates symmetry with grace and subtlety with no downtime and no surgical side effects.
Lip Injections
A facelift isn't a facelift if you forget about your mouth – next to your eyes, your lips are the most looked at part of your face. As we age, our lips tend to lose some of their fulness, which we can easily remedy with lip injections. Using either dermal fillers or Botox (maybe both), we can give you your mouth the ultimate anti-aging treatment by making them fuller, softer, and more attractive, without being too obvious. At Rao Dermatology, we achieve a subtle, natural look by using your lip's natural shape to guide us.
Contact us today to learn more about how we can help you defy aging.