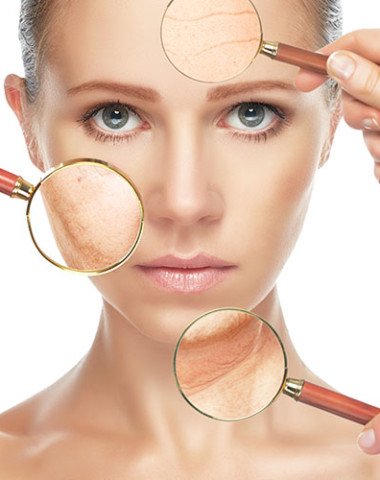 Book Your Consultation Now!
Solutions For Aging Skin
As we age, we start to notice the sagging looser skin, the tired dull sallow complexion. Then we zoom in closer and obsess over the fine lines , deeper wrinkles ,brown and red spots. These signs start to be visible in our 20's and become more noticeable as we move into a 30's, 40's and beyond.
Our skincare solutions for aging skin are geared towards a few different goals: removing damaged layers of skin; and rejuvenating skin; and nourishing skin to prevent future damage.
These effective treatment options can be combined or implemented separately, depending on each case and desired results.
The Intrinsic and Extrinsic Factors That Cause Aging Skin
Many changes occur in the skin as it ages. While aging is a natural process, a lifetime of bad skincare habits or health issues can speed up the process or lead to undesired changes.  There are both intrinsic and extrinsic factors that cause our skin to age including:
Intrinsic
Genetics: If your mother looked older than she actually was, chances are that you will too.
Sunlight: The powerful rays of the sun can cause wrinkles and a leathery appearance and texture.
Lifestyle: Unhealthy habits such as smoking, poor diet, stress, and substance abuse can all contribute to aging skin.
Facial expressions: Repeated facial movements can lead to permanent lines and wrinkles that are etched permanently into the skin over time.
Extrinsic
Loss of fat, muscle, and bone: Loss of facial volume and shape can occur as a result of the natural loss of these factors during the aging process.
Decreased production of collagen and hyaluronic acid: These two compounds give structure and volume to the skin and decrease in production over time.
Changes in hormones: This can lead to unwanted body hair growing in places where it shouldn't.
Blood vessels dilating: Weakened, dilated vessels can lead to facial redness, which can be sensitive and difficult to treat.
The distressing news is that we can never stop the aging process of our skin, it starts in our 20s and is ongoing, but the good news is that we sure can slow it down.
How is Aging Skin Treated?
We understand that each individual condition is different, and we offer multiple skin rejuvenation options for all of your cosmetic needs. A long-term comprehensive skincare program involving prevention and protection of healthy skin, treatment of imperfections, and maintenance strategies are paramount to ensure that your skin health and structure is optimized. Our aging skin treatment options include:
Our range of effective laser treatments includes IPL, Nano Laser Peel and Laser Genesis. Our laser treatments help correct the conditions typically associated with early skin damage and aging, stimulating the body to generate new collagen, which strengthens the skin and reduces unwanted redness and wrinkles without any side effects.
At Rao Dermatology, we can offer a variety of facial fillers such as Juvederm, Emervel, Revanesse, and Radiesse. With the expert skills of our luminary injectors, we can give you a natural soft lift and fullness that will instantly refresh your look and reverse the signs of aging.
Our neuromodulators treatments use a chemical called botulinum toxin type A which is injected into muscles. The chemical reduces the repeated muscle contractions from frowning and squinting over the years
Our range of TermiRF treatments delivers radiofrequency heat to provide solutions for a variety of cosmetic concerns including aging skin without any social downtime.
Other Aging Skin Treatments We Offer:
Book Your Consultation Today
Book your consultation with Dr. Rao today so he can help you chose the procedure for your aging skin that will best fit your personal goals.
He will take the time address your specific needs and answer any questions or concerns you may have about the various anti-aging procedures offered at Rao Dermatology. Also, he will make specific recommendations as to the best treatment plan for achieving your desired results.
Please fill in the form below to book your consultation now.