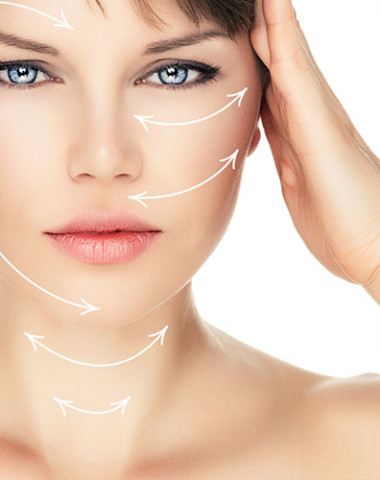 Book Your Consultation Now!
Tired of wrinkles?
Concerned about first signs of aging? It's never too late!
At Rao Dermatology, we offer safe and effective neuromodulator cosmetic injections in Edmonton.
Neuromodulators use a chemical called botulinum toxin type A which is injected into muscles.
The chemical reduces the repeated muscle contractions from frowning and squinting over the years.
You will begin to notice a visible smoothing of the creases around your eyes and  softening of the lines on your forehead.
How Neuromodulators Can Help Wrinkles
Aging has a way of creeping up on us. It starts with faint smile creases, forehead lines, or crinkles at the corners of your eyes. Those wrinkles in your skin are a result of smiling, frowning, laughing, and squinting over the years; though smoking, sun damage, dehydration, and some medications can cause wrinkles as well.
We can help smooth those lines out, for both men and women, by addressing the root of the problem: your facial muscles. By injecting neuromodulators (botulinum toxin type A) beneath the surface of your skin, we can reduce the muscle contractions in your face, ultimately smoothing those creases and softening those lines, helping to bring back your youthful skin.
While this neuromodulator is predominately known for its use in cosmetic facial enhancement, it can also play an important role in several non-cosmetic applications in the treatment of pain disorders:
Reduce Migraine Frequency
A neuromodulator is a prescription medicine that is injected to prevent headaches in adults with chronic migraines. It prevents up to 9 headache days a month when it is injected every 3 months by your doctor.
Excessive Sweating
Neuromodulators treat the symptoms of severe underarm sweating when other modalities do not work well. Neuromodulator treatments can block the chemical signals from the nerves that stimulate the sweat glands, resulting in less sweating.
Frequently Asked Questions
We find that new clients to Rao Dermatology have a number of common questions about neuromodulator treatments that we address in FAQ shown below, but if you have concerns that aren't addressed here, please feel free to contact us.
Are Neuromodulator Injections a Painful Cosmetic Surgery?
Generally, patients feel a simple pinch (similar to injections administered by family physicians) in neuromodulator procedures. In some instances, individuals experience tenderness around the injected area. If you anticipate discomfort, notify your dermatologist; he/she may recommend a numbing cream or ice for a soothing effect.
What to Expect During Your Neuromodulator Treatment
Patients usually experience very little discomfort, but we can prep the areas with ice or anesthetic cream if you are concerned about pain. Using a very fine needle, Dr. Rao makes quick injections into the targeted muscles. After your appointment, you may return to work and other regular activities immediately, although we suggest that you avoid pressing on treated areas which may be a little sensitive at the injection sites.
What Is the Average Time Per Treatment?
Neuromodulator injections only take a few minutes and does not require anesthesia. You can squeeze a session in on your lunch break and still have time to eat.

How Soon Will I See Results?

The average person, with moderate to severe wrinkles, will see visible results from neuromodulator injections three or four days after treatment. The neuromodulator will gradually improve until two weeks where it reaches its peak (this is when your skin is at its best).  The effect will wear off over the period of four months and another treatment will then be needed.
Will I Still Be Able to Make Facial Expressions?
Although you will see visible results, a neuromodulator treatment will not radically change your facial appearance or make it appear like you have had "work done." The muscle activity that causes wrinkles is temporarily reduced, but you will still be able to frown or look surprised.
What Happens if I Don't Continue Neuromodulator Treatments?
If you don't continue treatment, your symptoms (whether lines and wrinkles, migraine, or excessive sweating) will gradually return.
Do ® Treatments and Dermal Fillers Do the Same Things?
While both neuromodulators and dermal fillers are injectable treatments that are used to treat signs of aging, they work in different ways. Dermal fillers such as JUVÉDERM® are used to fill in wrinkles and folds from within the skin, providing instant results. Neuromodulator treatments smooth out wrinkles caused by facial muscle contractions, called dynamic wrinkles, and can take up to 6 weeks to reach full effectiveness.
Are Neuromodulators an Option for Men?

Both men and women can try our neuromodulator treatments. Men are becoming increasingly concerned about skincare and the physical appearance of their skin and neuromodulators are no exception.
What Is the Cost of Neuromodulators?
Neuromodulators aren't just for the rich and famous. In fact, it's relatively affordable and for migraine and excessive sweating patients, most health benefit plans cover part of the cost. Exact costs vary depending upon individual treatment plans. We'll advise you of the costs for your treatment at your consultation.
Am I a Good Candidate for Neuromodulators?

Your health and well-being is our priority and the determining factor for receiving neuromodulator injections. We encourage our clients to consult with a physician prior to treatment.
Are neuromodulators safe?
Yes. Neuromodulators have been approved for cosmetic use in Canada since 2001 and are safe when administered by a knowledgeable, experienced practitioner.
What Our Patients Are Saying
"Dr Rao is wonderful. He is always on time, beyond accommodating and very knowledgeable. He hears out all of your questions and provides detailed answers. He really cares about his patients. The clinic is beautiful, clean and very well kept. Everyone remembers you and treats you as if your family. 10/10 would recommend Dr.Rao to anyone."
Spracejus ~ Edmonton. AB.
"I had a wonderful experience at Rao Derm a few months back. Everyone was super helpful and polite and kind. Dr. Rao was extremely compassionate and generous. No problem was too big or small. After the work was done, I felt like I had the confidence to face the world again. I highly recommend them to everyone!"
Christian The ~ Edmonton. AB.
Book your neuromodulator consultation with us at our Edmonton clinic today by filling in the form below.
Conditions It Treats:
Migraines