Regretting that cute guy or gal's name on your arm or a simple impulsive decision that resulted in a big symbol that really means nothing to you? It's far more common than you think. A decision that is often attached by a scare tactic of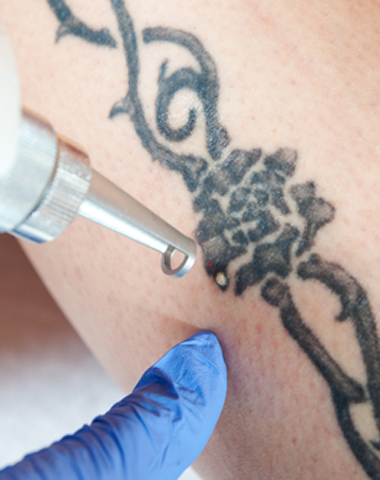 permanence is actually not so permanent after all. At Rao Dermatology, our Q-Switch laser treatment is an effective mechanism for laser removal.
Q-Switched, also known as the Q-Switched Nd-Yag Laser is primarily used to remove, brown spots, freckles, and tattoos from the skin. The procedure includes the use of a lase beam projected onto the respective part of the skin, at a specific wavelength, which is absorbed by the colour that is intended for removal.  The treatment works differently depending on what it is that you are aiming to treat. In the instance of a tattoo removal, the laser energy breaks down the tattoo ink to remove the tattoo. In cases of pigmentation, the laser energy is absorbed by the pigments, which are then broken down into smaller essence and cleared away by the skin's natural removal capabilities.  Still, for other matters of the skin such as rejuvenation, the laser energy is used to remove dead skin cells and dirt, leaving your skin feeling refreshed.
As far as tattoo treatments go, you can expect complete removal with a series of treatment. However, where the ink is a severe colour, in a few instances clearance can range from anywhere between 70 to 90%. The Q-Switch laser treatment is very reliable and is not painful. It might feel a little uncomfortable (like little hot pricks against your skin) but the feeling is bearable for even the most sensitive person.
One of the best features of the Q-Switch laser treatment is the downtime. Treatments take between 15 to 20 minutes depending on the size of the area and you don't have to interrupt your day in a huge manner. A simple lunch break will suffice.
While the procedures are safe, we recommend moderation. Each treatment is 15-20 minutes and is completed once every three weeks.
If you think Q-switch laser treatment is for you, book your appointment with our dermatologist, today.