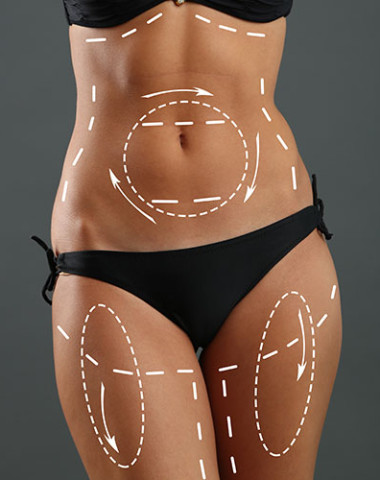 Book Your Consultation Now!
Liposuction is the removal of localized fat deposits.
"Liposculpture" is a newer term used, as it alludes to the more artful approach of sculpting the treatment area.
At Rao Dermatology we offer safe, easy and non-invasive Liposuction treatments. For more information on Liposuction services and prices please give us a call or book your appointment today.
Below are some FAQs that our clients have about the liposuction process and results.
Non-Invasive Liposuction Treatments
If you are having trouble losing fat from stubborn areas such as the stomach, thighs, love handles, buttocks and chest, our non-invasive liposuction procedure could be the best option for you.
Frequently Asked Questions:
Is Liposuction right for me?

If you're in good health and believe you can benefit from liposuction, then you are likely an ideal candidate. It is imperative however, to be able to manage your expectations. The procedure has been proven very successful and has provided significant improvements. However, it is not a quick fix for much larger health issues.
Abdominal Liposuction vs. Tummy Tuck?

A tummy tuck, also known as abdominoplasty, removes excess fat and sagging skin. On the other hand, if you solely have fat excess with minimal skin laxity you are within the realm of liposuction.  Additionally, liposuction is a safer procedure, which has made it the more favourable and common option for fat removal.
Is Liposuction a weight loss remedy?

Liposuction is not a substitute for weight loss regimens. Instead, it is a procedure intended to sculpt your body and eradicate problem areas. Liposuction can be a gateway to further weight loss. As such, when you engage in proper diet and exercise after recovery, you are likely to see weight loss results at a much faster rate. The opposite is also true: if you engage in engage in extreme weight loss activities prior to surgery makes liposuction  more difficult.
What Our Patients Are Saying
"Dr Rao is wonderful. He is always on time, beyond accommodating and very knowledgeable. He hears out all of your questions and provides detailed answers. He really cares about his patients. The clinic is beautiful, clean and very well kept. Everyone remembers you and treats you as if your family. 10/10 would recommend Dr.Rao to anyone."
Spracejus ~ Edmonton. AB.
"I had a wonderful experience at Rao Derm a few months back. Everyone was super helpful and polite and kind. Dr. Rao was extremely compassionate and generous. No problem was too big or small. After the work was done, I felt like I had the confidence to face the world again. I highly recommend them to everyone!"
Christian The ~ Edmonton. AB.
Book your free non-invasive liposuction consultation with us at our Edmonton clinic today by filling in the form below.
Conditions It Treats: