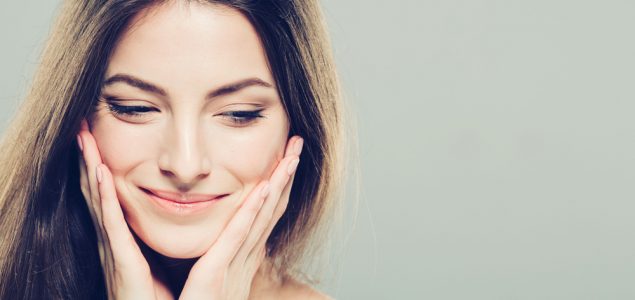 Everyone wants radiant, youthful skin – if we're being honest, we're all dreaming of airbrushed perfection (especially as we age). While some of us surrender and resign ourselves to fate, while others secretly hide our uneven skin texture and tones with primers and makeup – but we don't have to do either.
Wait, what? Uneven skin texture? I thought I only had to worry about skin tone!
Take a moment to close your eyes and run your hands over your face (makeup free and clean, of course). Do some areas feel rougher than others? Bumpier? Between dead skin cells and sun exposure, your pores can expand, and your skin can look duller. Where you live and how you live, not just how you wash your face, can impact the way your skin looks and feels.
For example, colder climates (like Edmonton's) are tougher on your skin: cold temperatures, especially in combination with cold winds, strip moisture from your skin and can leave it rough, tight, cracked, and red (read: terribly uneven). But where you live isn't as easy to change as how you live.
Bad habits like poor eating, poor sleeping, and poor skin care regimes can all impact the look and feel of your skin. And smoking is even worse: if you smoke, you're more prone to dark circles and bags under your eyes, you're at higher risk for psoriasis, and you'll age quicker and look grayer.
But we can't go back in time and wear more sunscreen, stop smoking, or start washing our faces regularly. So, whether your cursed with a dry, flaky forehead and an oily chin, you've been fighting against acne scars your whole life, or you're suddenly swimming in melasma and wrinkles, soft, supple, luxurious skin is still within reach with one or more of the following treatments:
1. Microdermabrasion
Arguably the number one treatment for improving skin texture and tone, microdermabrasion boosts collagen production and cell regeneration by removing the top layer of dead, damaged skin to reveal the smoother, new skin beneath. Microdermabrasion also minimizes pore size and improves scarring – making your skin smoother and brighter overall. Over and over again, microdermabrasion is praised for its effectiveness, but while it's quick and noninvasive, the results aren't instantaneous – depending on your skin and the issues you're trying to correct, you may need several treatments to achieve your desired results.
2. Laser Treatments
Laser treatments are often dubbed "skin resurfacing" which means that laser treatments remove the top, damaged layer of skin. Like microdermabrasion, laser treatments encourage healthy skin growth and promote collagen production. Ultimately, laser treatments retexture your skin, removing lines, wrinkles, and minor scars as well as correcting sun damage, discolouration, and tightening up limp or sagging skin.
3. Chemical Peels
At Rao Dermatology, we customize our chemical peels using medical-grade products to your specific skin type and its tone and texture issues. Both your skin type and your goals will determine the depth of your treatment. Again, the basic result of the treatment is the same as microdermabrasion and laser – a peel removes the top layer of dead skin using a solution, but the dead skin will peel away gradually after the procedure to reveal a smoother, more even complexion. Chemical peels tighten, brighten, and smooth the skin.
4. Daily Advanced Skin Care
While our treatments can offer quicker results, a daily advanced skin care regime is also an effective treatment – but you must be diligent and consistent about it and you must use high quality products. On its own or in combination with one of our treatments, taking good care of your skin is essential to fighting the impact of a lifetime of UV rays and aging. We've chosen SkinCeuticals as our skin care brand because they're committed to the highest, medical-grade formulation standards (they're products win awards repeatedly). At your consultation, we can work with you to determine the best SkinCeuticals products to help you fix your skin's texture and tone.