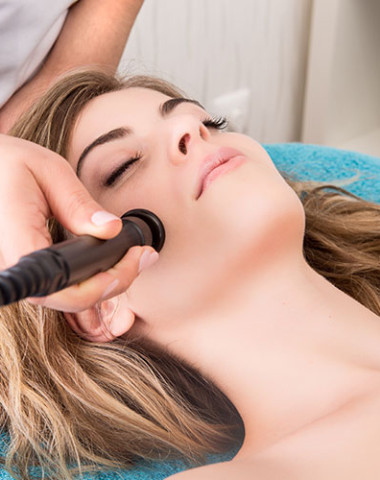 Book Your Consultation Now!
If your skin is looking dull, tired and sallow, this may be the laser procedure for you.
This is the perfect laser for very light resurfacing without any with social downtime.
It is definitely ideal for those looking for something stronger than a chemical peel or microdermabrasion, but not as severe as a deep laser resurfacing.
It uses light energy to instantly remove the top layers of your skin at a depth that also accelerates the skin's own renewal process.
About The Nano Laser Peel Procedure
Nothing shows age like our skin. If your skin looks dull and tired, you may be considering (or already doing) treatments like a chemical peel or microdermabrasion. These are treatments that use chemicals or abrasive materials to remove the top layer of the skin, revealing new skin underneath.
But the Nano Laser Peel can do much more. It uses light energy to instantly remove the top layers of the skin at a depth that also accelerates the skin's own renewal process by activating special messenger proteins. Conditions that are effectively treated with this procedure include mild wrinkles, scars, keratosis, sun damage and pigment inconsistencies.
How Does Nano Laser Peel Work?
The NanoLaserPeel beam is scanned over a treatment area to remove a very thin layer of the skin. Removing the top layer eliminates some of the damaged cells that can give skin a tired, aged look. Plus it activates messenger cells to trigger the body's natural healing process. As the skin heals, fresh cells grow and resurface the treated area. The result is healthier-looking skin, often with reduced wrinkles and improved color evenness. Patients often say that it looks like their skin went from looking tired to vibrant.
What Happens During The Procedure?
Your skin will be cleaned in the treatment area and your eyes will be protected with safety shields. The physician will position the laser handpiece above the skin and will hold it in place as the computer-guided scanner moves the laser beam around the treatment area. Depending on the size of the area being treated, the procedure usually lasts 5 to 10 minutes.
Will It Be Uncomfortable?
One of the primary advantages of NanoLaserPeel is that it causes little pain because it does not penetrate very deeply into the skin. At its most shallow settings, most people can tolerate treatment with no anesthetic at all.
What Should I Expect Immediately After The Treatment?
Immediately after the treatment you will notice that the skin has a "frosty" appearance. This is the dehydrated skin that will peel away a next few days following the treatment. You may experience some skin redness and a sensation resembling sunburn, as well as mild swelling.
When Should Results Should I Expect?
Because only the outer layer of skin is treated, most patients notice an obvious improvement in tone, texture and color evenness once the skin heals in approximately 2-3 days.
Book Your Free Consultation Today
Our team is committed to working with you to develop a synergistic approach for enhancing your skin's health and reducing the signs of aging. Dr. Rao has extensive experience and expertise in Nano Laser Peel treatments in Edmonton.
During his consultation with you he will address your specific needs and goals and answer any questions or concerns you may have about the procedure. In addition, he will make recommendations as to the best treatment plan for achieving your desired results. Use the form below to book now.
Conditions It Treats: