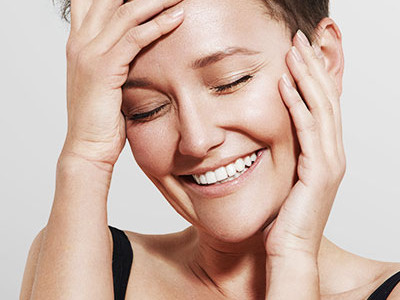 No matter how hard we try, we cannot avoid the aging of our skin. It is an inevitable part of life that is worsened by many factors such as UV exposure, our environment, daily routine and, most of all, the passage of time.
Our skin is not only the largest organ of our body, but also an expression of our identity, lifestyle and choices we made. This explains why many of us try our best to keep it looking as good for as long as possible and to deflect the endless attacks of the biological and environmental forces on its youthfulness.
There are many ways aging can affect our skin including wrinkles, volume loss, sagging, dull skin tone, age spots and spider veins.
What Causes Aging Skin?
Skin ages due to various environmental causes and biological variables:
Genetics
Genetics and family history play a big part in how each person ages. If your genetic history includes individuals who aged noticeably faster, there is a good chance the same thing will happen to you but we offer a number of treatments that will help slow this process down.
Life Style
Our skin's health can be directly tied to our internal health. Leading an unhealthy lifestyle is eventually going to leave a mark on our physical appearance.
Sunlight
Sun exposure is responsible for most of the visible aging of your skin – far more than all other factors combined. Sunrays are harmful to our skin and cause damage in the form of pigmentation, volume loss and texture problems.
Facial Movement
Wrinkles at the corners of the eyes (crow's feet) or between the eyebrows (frown lines) are caused by small muscle contractions. Over a lifetime, regular facial expressions like frowning, smiling, or squinting leave their mark on our skin.
Dilated Blood Vessels
Tiny vessels in our face and body can become more visible when exposed to trauma as we get older. areas of the skin, particularly around the cheeks and nose, may become reddish or you may notice small veins on your face.
Decrease in Collagen or Hyaluronic Acid
As we age, our skin loses the ability to produce its own collagen and hyaluronic acid, resulting in many skin imperfections like volume loss and a lack of firmness and elasticity.
How We Can Help Treat Aging Skin
We understand that each individual is different and requires different treatments. We offer multiple skin rejuvenation options for all of your cosmetic needs. A long-term comprehensive skincare program involving prevention and protection of healthy skin, treatment of imperfections, and maintenance strategies are paramount to ensure that your skin health and structure is optimized. Our aging skin treatment options include:
Laser Treatments
Our range of effective laser treatments includes IPL, Nano Laser Peel and Laser Genesis. Our laser treatments help correct the conditions typically associated with early skin damage and aging, stimulating the body to generate new collagen, which strengthens the skin and reduces unwanted redness and wrinkles without any side effects.
Dermal Fillers
At Rao Dermatology, we can offer a variety of facial fillers such as Juvederm, Emervel, Revanesse, and Radiesse. With the expert skills of our luminary injectors, we can give you a natural soft lift and fullness that will instantly refresh your look and reverse the signs of aging.
Neuromodulators
Our neuromodulators treatments use a chemical called botulinum toxin type A which is injected into muscles. The chemical reduces the repeated muscle contractions from frowning and squinting over the years
Thermi
Our range of TermiRF treatments delivers radiofrequency heat to provide solutions for a variety of cosmetic concerns including aging skin without any social downtime.
Book Your Free Consultation Today
Book your free consultation with us today. Dr. Rao will take the time to address your specific needs and answer any questions or concerns you may have about the various anti-aging procedures offered at Rao Dermatology. He will also make specific recommendations as to the best treatment plan for achieving your desired results.