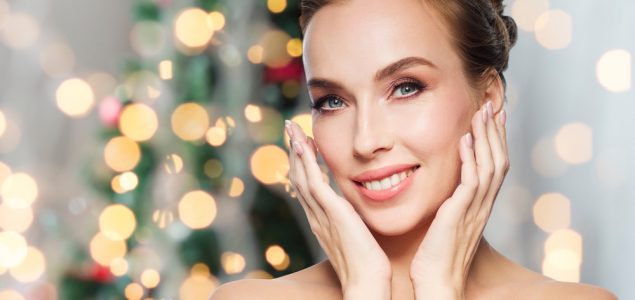 The holidays are all about indulgence: lavish turkey dinners with creamy mashed potatoes, gravy, and green beans; hot cocoa with Irish cream or rum and eggnog; hordes of holiday treats like chocolate crinkles, butter arts, sugar cookies, and snickerdoodles; and, of course, an abundance of gifts.
So why not indulge in yourself this holiday season with cosmetic treatments that will enhance your looks and help you to look and feel your best for those holiday parties and get-togethers. And if spoiling yourself isn't altruistic enough for you, gift your loved ones with cosmetic treatments they've been fantasizing about but hesitant to try, like these four fan favourites:
1. Dermal Fillers
Winter is hard on the skin, it dries it out causing flakes, itchiness, new lines, and a lacklustre appearance which is why the holidays are the perfect time for dermal fillers. If you're looking in the mirror and finding that you've aged overnight, dermal fillers can help increase elasticity and fullness with no downtime. From fine lines, undereye hollows, scars, and gauntness, dermal fillers plump these worn areas up, resulting in a more youthful appearance immediately. Cost-effective and minimally invasive, dermal fillers can be natural or synthetic and are injected directly into the skin using fine needles for minimal discomfort. The results are instantaneous and can last from two months to two years, depending on your skin. Follow up treatments can help maintain your youthful visage. At Rao Dermatology, we use both natural and synthetic fillers selected by our doctors to produce superior results: Juvederm®, Restylane®, Revanesse, and RADIESSE®.
2. Medical Facials
Everyone loves a facial – they're the ultimate luxury in pampering. But what medical facials do that spa facials don't is give real results. Administered by medical aesthetician are trained in advanced skin care and work with your dermatologist to customize your treatment plan, medical facials include an analysis of your skin issues in order to tailor the treatment to your needs. They go beyond the skin's surface and use medical grade products that produce long-lasting results. Medical facials can make you look more youthful, minimize acne scarring, reduce discolouration, encourage collagen stimulation, improve circulation, and exfoliate and remove toxins. Working at the cellular instead of surface level, medical facials provide instant results.
3. Non-Surgical Rhinoplasty
More commonly known as a "nose job," rhinoplasties are typically done surgically, but we can reshape your nose without going under the knife. Not only that, but non-surgical rhinoplasties are minimally invasive with no downtime in addition to being a quick procedure. So how do we do it? Well, we carefully and accurately inject hyaluronic (dermal) fillers to correct imperfections, straighten noses, and build up the nasal bridge. A non-surgical rhinoplasty can lift a droopy tip, narrow a bulbous tip, smooth out bumps, create more symmetry, or create a nose bridge – it's so effective that it's becoming increasingly popular. Plus, it's a subtler change to your appearance, it's less expensive, and it bypasses surgical side effects like scarring and loosening cartilage.
4. Lip Injections
We all want fuller lips and we can achieve them with lip injections. Dermal fillers and/or Botox offer natural, soft, perfectly shaped lips with no downtime. Whether you've always had thin lips, they've gotten thinner with age, or smoking and sun damage have made them lose their fullness, lip injections can give you a subtle and instantaneous enhancement that will make your lips much more luscious. But don't worry, at Rao Dermatology, we don't do "trout pouts" – we use your lip's natural shape to add the right amount of volume and definition.
So this holiday season, give the gift of youth – to yourself or a loved one with a cosmetic treatment at Rao Dermatology.